Digital Marketing For Hotels & Resorts
Be the hotel or resort of choice with our digital marketing services. Increase brand awareness, reach new customers, and drive more bookers through your website.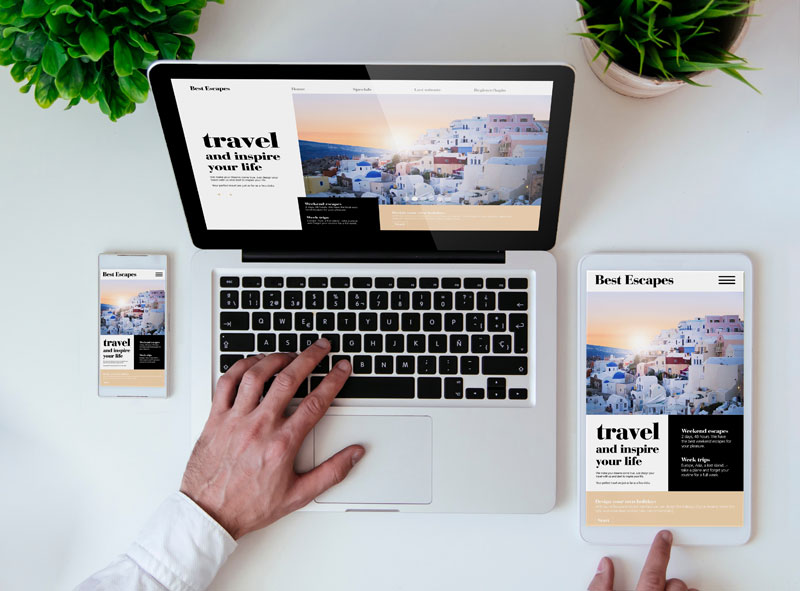 The Digital approach for hospitality brands
The global pandemic has hit hotels and resorts hard, but that doesn't mean you should neglect marketing until the industry fully recovers. Now, you have the chance to dominate the top positions on Google and increase brand awareness while your competitors hold back. In other words, digital marketing for hotels and resorts is just as important now as before.Even with travel restrictions in place, people are still searching eagerly for their next travel destinations. Now's the best time to show off your resort or hotel, ensuring you're top-of-mind when they plan their future getaway.

At Truelogic, we've been the country's leading experts in digital marketing for the hospitality industry. We've worked with hotels, resorts, spas, and more. Thanks to our track record of success, you can ensure your strategies yield the results you deserve.
Vacation Plans Start as Ideas. Will they end at your hotel or resort?
Hospitality marketing is unlike any other type of marketing. Content, design and images must capture the imagination of your visitor and put them at your hotel or resort before they ever step foot on the premises. This is only possible with a digital marketing strategy created specifically for hotels and resorts.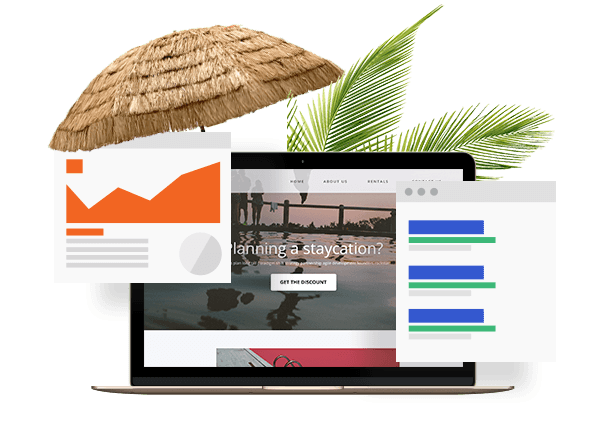 Increase Revenue and Drive Bookings with Search Engine Optimization
Finding a hotel or resort has never been easier. There are any number of travel websites or hotel review sites and Google's local search results can put reviews right in front of your future guests in seconds.
In both cases, the path should lead to your website and eventually to your hotel or resort.
Are you a beachside resort? Does your hotel or resort provide accommodations for team building functions? Creating an
SEO marketing campaign
and building
a keyword strategy
around these search queries ensures that anybody searching for what your hotel or resort provides will find your website.
Beautiful Creatives for your Hotel or Resort Social Media Feed
Travel plans can start anywhere. Your future guests may be prompted by their Facebook or Instagram feeds to make travel plans. Being the most visible hotel or resort at these moments can be the difference between a successful peak season or barely making it. With a social media strategy designed for hotels and resorts, your piece of paradise can be the hotel of choice.

After the vacation, photos are shared on Facebook promoting the vacations of followers. Being tagged in these posts can be invaluable and drive traffic to your Facebook page and website. Only a social media marketing services designed specifically for hotels and resorts.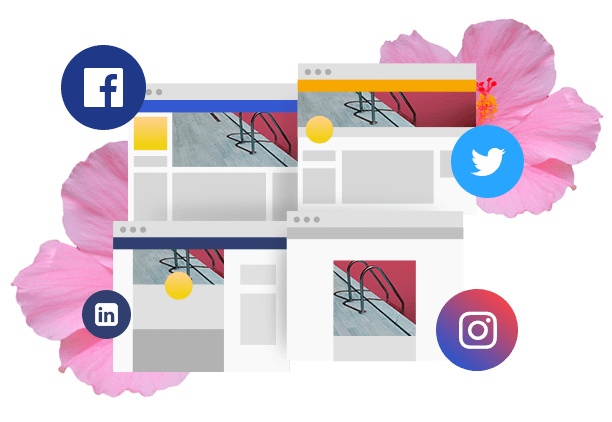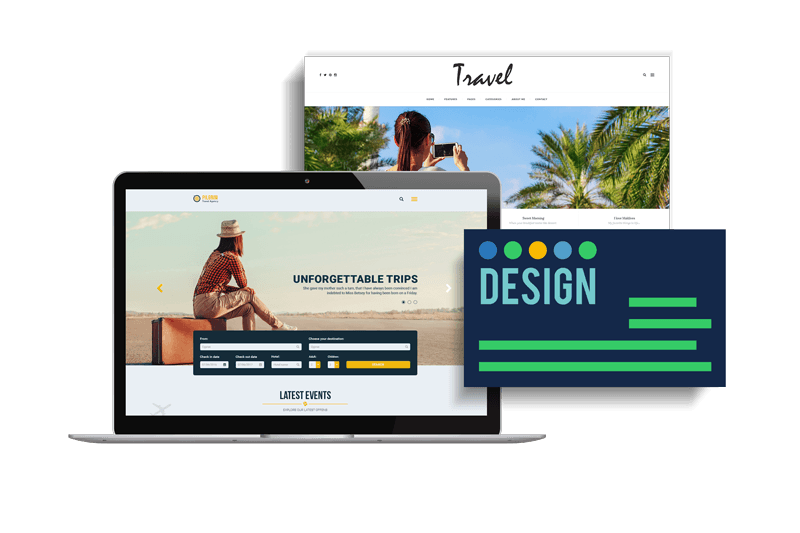 Reflect the experience at your hotel or resort with a great website
Stunning photos and videos, gorgeous design, glowing reviews and updated descriptions of your resort. All of these are characteristics of great web design for hotels and resorts.

The experience starts with your website as a reflection of what their vacation will be like. If they see a drab design and dated photos on your website, don't expect them to click any further.

Many hotels have built amazing accommodations on exquisite resorts and never see it realize its full potential season after season. A website can make or break your hotel or resort. Does it have the wrong address? A phone number that your staff doesn't answer? With so many options for vacationers, great-looking website design and accurate information can be the difference.
Targeted PPC Campaigns for hotels and Resorts
We've developed a PPC advertising strategy that has helped our Hotel and Resort clients maximize their search engine marketing campaigns.

Goal Setting – Define what the hotel or resort marketing teams want to get out of the PPC campaign and the budget.

Keywords – Make strategic bids for keywords that are will bring the right traffic and are the most likely to help meet the goal. Creatives – Great copy and great design are critical for a successful PPC campaign when there is so much competition for attention.

ROI – Measure the success of the campaigns in ways that are data-driven and results defined by the goal setting step.

Adjust – Make changes to steps 1, 2, and 3 based on the results. Campaigns are fluid and can be adjusted as necessary.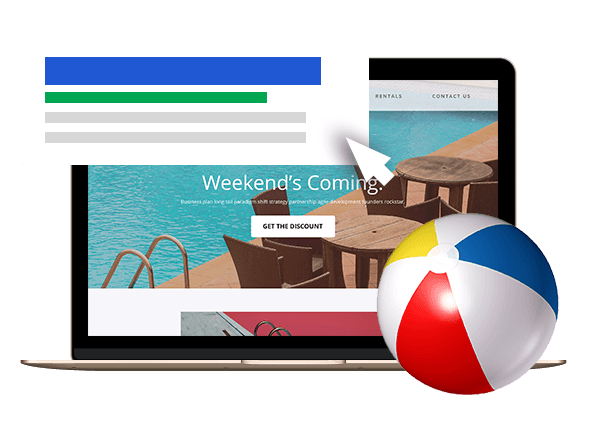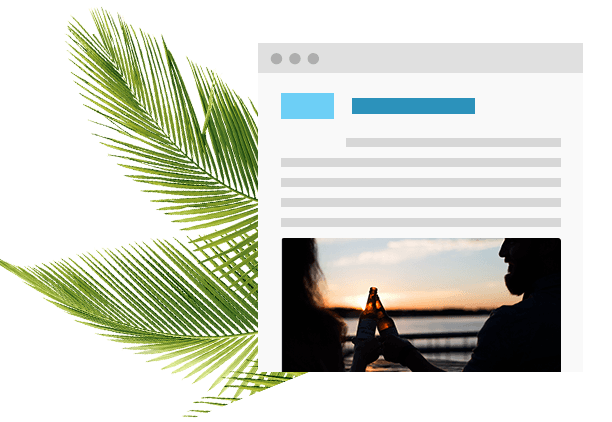 Give Your Future Guests a Narrative Worthy of your hotel or resort
Is your hotel or resort your dream investment finally realized? A family property passed down through the generations? Your hotel or resort has a story and a smart digital marketing team will leverage that story to build your personality and fascinate your future guests.

Our digital marketing company will help you build a content strategy around the goals of your hotel or resort. Are you aiming for a specific audience? Content will be written specifically for that audience. Promoting a special package this summer? The content will focus on the value of the package and encourage readers to book right away!
Truelogic – Your Partner in Growth
Digital marketing for hotels and resorts is a complex machine with multiple moving parts and constantly-evolving trends. In such a rapidly-changing environment, it's hard to keep up and know where to invest your time and resources.

Make the right choice with Truelogic. We don't just focus on driving traffic to your site, we focus on transforming as many visitors into leads and clients. We work with hotels and resorts around the country to provide data-driven digital marketing services that drive customer interaction, repeat business and increased revenue.
Truelogic started as a nine-man team in 2009. Since then, we've grown to be one of the leading and largest digital marketing companies in the Philippines. Our solutions have grown too, and we now deliver a comprehensive range of success-driven solutions to thousands of clients, including the hospitality industry.
As leaders in the digital arena, we're not fans of a cookie-cutter approach. We continually push the boundaries of digital marketing to provide strategic solutions that disrupt the industry and deliver the ROI our clients deserve. From content creators and web designers to account managers and SEO specialists, we have a team of brilliant digital marketing professionals who aren't afraid to think beyond the box.
Above all, we're not just an agency you hire, we're your business partners! Your success is our success and you can count on us to always have your back.
Ready to Drive More Bookings from Your Website?
The first step is making sure people actually find your site — and that's the thing we're best at. Partner with Truelogic and leverage the power of online solutions that simultaneously grow audiences, boost engagement, and increase bookings.

Start your journey to success with a conversation. Contact us for an in-depth conversion about the digital marketing services you need and how they will be beneficial to your business. We'll talk you through the entire process and steps.