LOCAL SEARCH ENGINE OPTIMIZATION.
BUILD UP YOUR LOCAL SEO PRESENCE AND DEVELOP A LOYAL CUSTOMER BASE.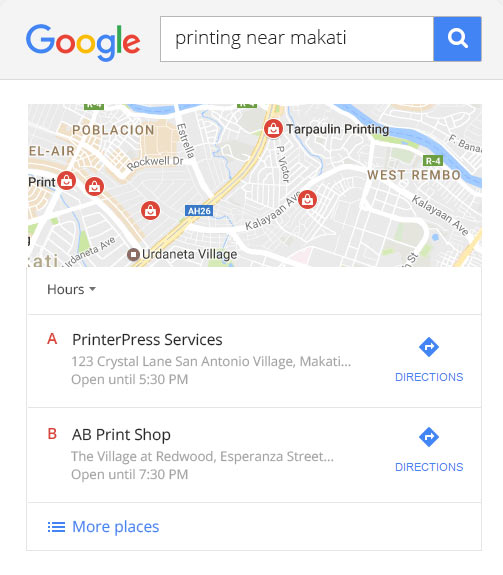 Search Engine Optimization is a powerful tool for attracting users to your website. It helps improve your business' online visibility to your target market.
Local search engine optimization makes targeting even more specific. Local SEO company services can drive traffic to both your website and your physical establishment by targeting customers and prospects in a specific area. That's why local SEO is a powerful conversion strategy. People who are searching for your location are shopping with the intent to buy. They want to transact business with you.
And if they know where you are, they'll come to you.
USE LOCAL SEO AND SHOW CUSTOMERS WHERE YOU ARE
To create online location as well as brand visibility, our local SEO team selects relevant geo-targeted keywords to use throughout your campaign. These keywords target countries, states, cities, and communities to cover all the words and phrases your customers and prospects use when searching you online.
WE'LL MAP YOUR ONLINE PRESENCE FOR YOU
When trying to find businesses using search engines, customers usually look for store information or business listings. We can optimize your business information for search and apply the necessary mark-up copy to generate informative rich snippets on Google.
We can also claim, manage, and update your listings on business directories and websites, including:
Local SEO services help you build a consistent, highly visible presence for your company. We then deploy classic SEO techniques that create relevance and authority for your brand in your line of business.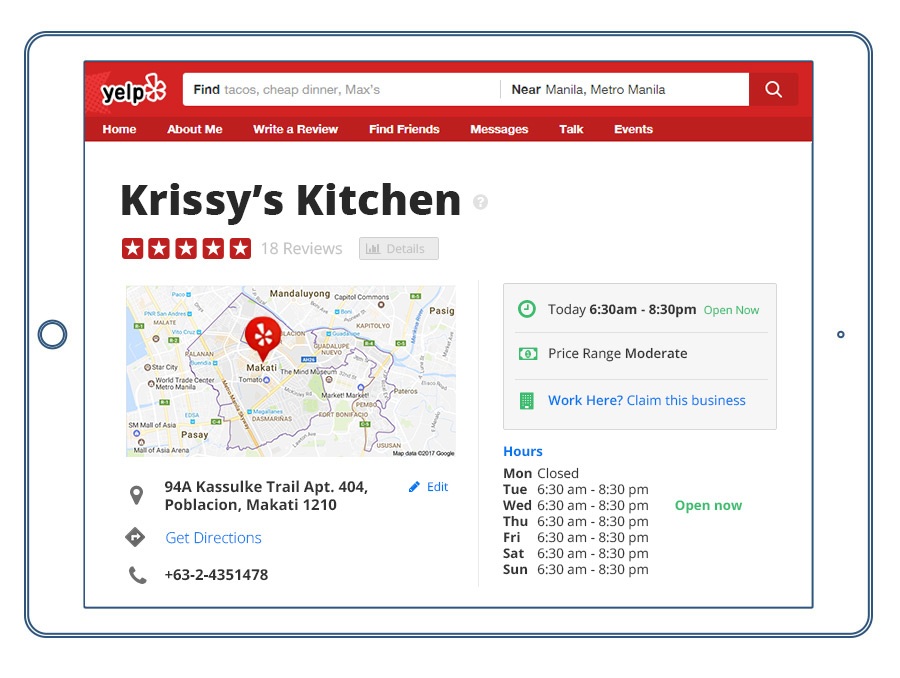 RELEVANT LOCAL CONTENT CREATES INTEREST IN YOUR BUSINESS
Our local SEO strategy is also anchored on strategic on-page and off-site content creation. Content for local SEO campaigns should focus on calls to action, influence marketing, and relevant, local SEO topics.
We write about trending topics related to your industry and location, to establish your reputation as an industry authority and information resource. The content we produce is highly engaging and well-researched, helping you earn high quality links and citations. We'll turn visitors into loyal brand advocates who will actively share your content on social media.
The content we produce for local campaign include:
REVIEWS AND TESTIMONIALS BUILD CREDIBILITY
Another way local SEO for businesses builds a brand's online reputation is through managed listings and reviews.
Customer reviews are crucial elements of local SEO. Encourage your customers who visit your establishments regularly to post online reviews. We'll work to integrate links to your business listings into your website and post relevant reviews on your pages. We will also manage your reviews on your social media and business pages, respond to their feedback and keep your reviews spam-free. 
The more people write about you and review on your comments and services, the higher the chances of improving your search rankings based on your location.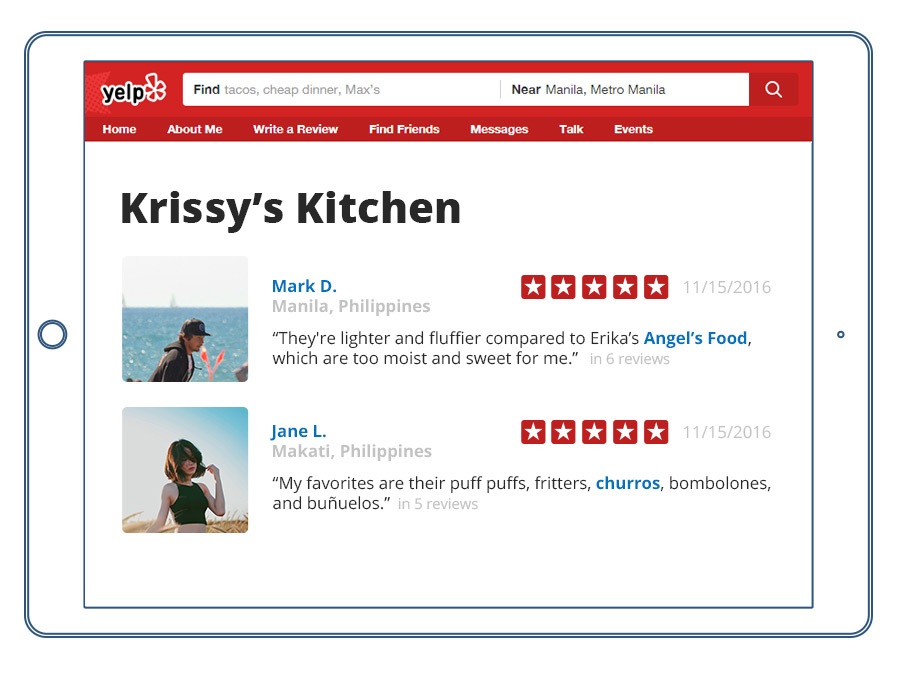 REGULAR TRACKING, MONTHLY REPORTING
We keep track of all our campaigns regularly, and provide full reports at the end of each cycle. These reports cover all the work we did for the campaign during that month, and include the following details:
Local SERP rankings.
Google Analytics reports and interpretations.
Monthly Executive Summary (includes a progress report, campaign tracking information, and proposed strategies for the following month).
HOW LOCAL SEO SERVICES HELP YOUR BUSINESS GROW
Local SEO for businesses helps local customers spot your services online in several ways. Done correctly and accurately, local SEO can do these (and more!) for your business:
Increase your website's overall search engine ranking position
Help Google display your full company information on rich snippet features like the Local Pack and the Google My Business Knowledge Panel
Create visibility for you on Google Maps and other navigational applications like Waze
Drive customers toward your location and directly to your store or place of business, whether they've searched for you on Google or found you on social media
Create e-commerce opportunities for your business when you can fulfill orders via delivery apps
In today's world, customers are highly interested in transacting business with companies near them. E-commerce, in particular, is growing faster than ever before. Now's the time to help them find you and buy from you when they search for your business.
Work with the right local SEO service provider in the Philippines to achieve higher growth now. Contact Truelogic today.
WE ARE THE GO-TO PROVIDER FOR ONLINE MARKETING AND SEO IN THE PHILIPPINES. CONTACT US TODAY TO START GETTING YOUR WEBSITE OPTIMIZED FOR YOUR TARGET AUDIENCE!
The quality of service TrueLogic provides its clients is exceptional. They deliver results and the people of Truelogic are a joy to work with. They have mastered the art and science of knowing what really is at the root of certain issues, and they know how to address them efficiently.
With the help of Truelogic, we have drastically improved the overall look and feel of our Moringa-O2 brand website. And with our website fully-revamped, cleaner, and more modern in terms of design, it has since been performing well for the brand. Coupled with the ongoing SEO efforts of Truelogic, our website statistics have been improving monthly, resulting in better customer interaction on our end.
I knew that I made the right choice, not only in doing SEO for the company, but also with Truelogic. From the sales people to the technical people, everybody made sure that they guided me properly. My primary objective in doing SEO is to really increase our customer base, and I'm delighted to say that we were able to do that. Not only did we increase our B2B partners, but we are already tapping B2C customers.
What made Truelogic standout from other digital marketing companies was the expertise and depth of understanding what they do. Since working with them, we have offloaded the need to manage and maintain our website, allowing us to focus on our core strengths and services. Truelogic has also been proactive in tuning our site to react to the latest SEO techniques.
Been working with Truelogic for almost a year now. They really walk the talk, gives us compelling recommendations and comprehensive reports. Thanks to them, our website performance is in its best shape ever. The people are easy to work with, approachable and understanding of our company's challenges.
Truelogic is the top SEO company in the Asia Pacific region. I've been sending them work for years and admire their values and work ethic.
FREQUENTLY ASKED QUESTIONS
Both classic or "regular" SEO and local SEO focus on improving your search visibility on the web. SEO's goal is to improve your overall rankings on search engine results pages (SERPs).
SEO aims for national or international visibility. This helps you capture customers wherever they are.
Local SEO uses techniques to highlight both industry and location. Local SEO helps people located near you or people searching for businesses in your area find you.
Any company who has a local target market benefits from local SEO solutions. Any customer who wants to transact business with you needs your address!
Businesses working on their local SEO start by doing two things. First, they create a listing on Google My Business (GMB). Second, they pin their exact location on Google Maps.
Here's the catch. According to GMB guidelines, your office must meet customers in person during operating hours. This means local SEO is not ideal for businesses without an office.
Google My Business (GMB) is a free service from Google that allows you to list your business online. Your listing includes your official business name, address and phone number, official operating hours, and customer ratings. Your GMB profile allows you to upload photos of your business and pin your exact location on Google Maps.
People who search for your business on Google will view your official profile in GMB format. Google My Business provides directions to your office. It also lets people call you.
Getting a GMB listing is powerful for mobile and voice searches. People who search for you by business name can find you instantly. So can people looking for businesses like yours in your location.  
Google My Business also reports on how people searched and located your business. This helps you plan how to increase your business visibility further.
In general, you should view local SEO as medium to long-term strategic effort. If your business enjoys some brand awareness to begin with, it may be possible to see results with local SEO earlier than expected.
We are usually able to see initial results on our SEO efforts in three to six months. Based on our experience, results are clearer in six to eight months.
But visibility depends on many factors. The amount of competition in your business, for instance. Or how Google adjusts how it rates and ranks the quality of content presented on a website on a periodic basis – which we also address.
Managing your online reputation management and achieving good SEO are closely connected.
Online reputation is built by online opinions of your business. Getting positive online reviews will improve your search rankings. Negative reviews can push your search rankings down.
A local SEO company who takes care of your SEO rankings must also curate your online presence. It's important to build online authority with content that signals expertise in your field. And build a positive image that encourages customers to give you positive reviews.
This is why it takes some time to enjoy the full benefits of SEO. But this is where we come in. We'll help you with this, too.
The short answer is no. Google does not allow business owners to take down reviews from a GMB listing.
You can address this in two ways: by replying to the review and addressing the customer's concern. Or flagging the review in question.
Address this by taking care of your customers online and offline. Like we said earlier, if they had a good experience using your business, encourage them to post good reviews!